Projects
Not all clients are the same nor are their requirements the same. If we are to give them exactly what is needed to help them succeed in their objective, we have to be flexible and design services around their convenience. For each project we discuss the delivery model that will suit them, the scheduling and the technical matters before deciding on the service model.
Onsite Service model: In this model our engineers work at a client's site as a part of their design and development team, coordinating and interacting with the client's staff to achieve the desired objective. Our engineers work in the same way like a client's in-house professional, adhering to the highest standards.
Our centre has all facilities for total design and development services for engineering units and we coordinate with clients through 24x7 open communications and help lines.
As a service oriented organization delivering sophisticated technological and engineering solutions we have hand picked our team members from the highest qualified, experienced and talented pool available in the country. Each staff brings in his own perspective, intelligence andcompetencies and in synergy, our team can deliver innovative, cutting edge solutions in its area of expertise. Each staff member undergoes training and gains hands on experience before becoming a full-fledged team member. Our team understands what a client wants, what his objectives are and works to deliver timely, advanced solutions.
Our work culture is positive, motivational, inspirational and encouraging to each one in the team to do their best and to excel with rewards in proportion and incentives to spur them on.
Computer Aided Design – CAD
Computer Aided Manufacturing – CAM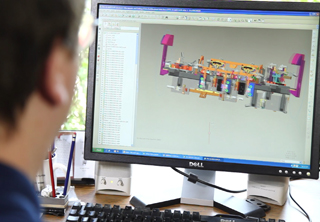 @Copyright 2012 Preside Group All Right Reserved.
Design and Developed by :
Web Mart Solution