GD & T
| | |
| --- | --- |
| Course Code | GDT10309 |
| User Level | Beginner |
| Duration | 24 Hrs |
Through our GDT courses, you'll learn to avoid confusion and miscommunication; increase robustness by knowing when to use geometric tolerance; reduce part rejection and scrap rates; and save money for you, your suppliers and your customers.
Supervisors, Inspectors, Lead People, Set-up People, Machine operators looking to
improve their skill set. This can even be a refresher for engineers and CAD/CAM operators.
None
• Student Guide
• Activity material
• Objectives & Basic Overview
• Comparison of the "Old" Methods
• GD&T Symbology
• MMC, LMC and RFS
• Form controls
• Orientation controls
• Composite controls
• Location controls
• Profile controls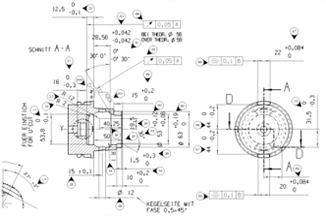 @Copyright 2012 Preside Group All Right Reserved.
Design and Developed by :
Web Mart Solution