Best-in-class digital simulation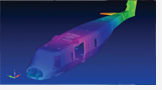 Why digital simulation?
Industry pressure to reduce costs and improve quality is driving growth in the use of digital simulation throughout the product lifecycle. Choosing the right tools is key to achieving the business benefits of digital simulation.

Why Femap?
Siemens PLM Software's Femap™ system facilitates an advanced engineering analysis environment. CADneutral and solver-neutral technology and cost-effective functionality have enabled Femap to become the world's most popular engineering analysis environment for Nastran users. It is widely used by the world's leading engineering organizations and consultants to model complex products, systems and processes, including satellites, aircraft, defense, automotive vehicles, electronics, heavy construction equipment, lift cranes, marine vessels and process equipment.
Femap and NX™ Nastran® software are highly integrated and can be sold together as a bundled solution. But more than this, being open to all solvers, Femap demonstrates the power and value as a core analysis tool.
Femap is CAD independent and leverages Siemens PLM Software's Parasolid® modeling kernel that allows direct access to Parasolid data forsurface and solid modeling in addition to advanced geometric tools necessary for accessing non-Parasolid geometry.
From advanced beam modeling, midsurface extraction and hex meshing to robust CAD import and idealization, Femap gives you unparalleled model control and flexibility with a broad range of loads, materials, analysis types and visualization options.
Femap is not just a solid investment for those committed to excellence in the use of finite element analysis technologies. it's the right tool to help you realiza your business goals
Your business benefits

Faster to market with innovative new products
Lawer cost through less physical prototyping, fewer engineering change orders and better in-service warranty
Increased product quality
FEA performance with ease-of-use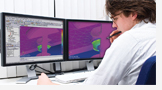 Femap is recognized as the world's leading CAD-independent Windows-native pre- and post-processor for advanced engineering finite element analysis (FEA). It provides engineers and analysts with an FEA modeling solution to handle even the most complex tasks easily, accurately and affordably.
Femap has embodied the principles of power and simplicity for over 20 years and continues that focus today with a Windows-native graphical user interface and efficient workflows that simplify access to all Femap functionality and streamline the process of creating an accurate and representative simulation model.
Scalable solutions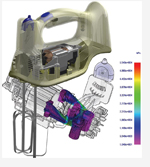 Powerful, affordable CAE Femap is available standalone, inside Solid Edge® software and bundled with NX Nastran with add-on modules that form a series of powerful, robust and affordable solutions suitable for companies that have a diverse set of analysis requirements. By providing engineering and design teams with advanced CAE tools, companies enable their engineers to focus on improving product performance and reliability while streamlining the product development process.


Femap with NX Nastran The Femap with NX Nastran package seamlessly combines the advanced functionality of the Windows-native Femap pre- and post-processor with the powerful NX Nastran solver. Femap with NX Nastran allows engineers access to a much greater depth of analysis functionality to easily and efficiently solve complex engineering problems.
CAD independent
Serious engineering in a Windows environment Femap delivers a depth of functionality normally only found in more expensive applications. With powerful tools easing all aspects of the creation, manipulation and review of an engineering analysis model, Femap is the natural choice for a complete CAD-independent analysis environment.
Femap provides exceptional value and performance and is not limited to geometry- based digital data. Femap will also delight customers working with pure finite element model data. As a nuts-and-bolts, "bottom up" finite element pre- and postprocessing solution, Femap provides a range of FEA model readers to rapidly import existing models from many FEA solvers. Advanced functionality then eases manipulation of finite element data at the node and element level.
Solver independent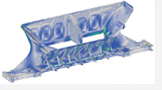 Integrating analysis technologies Leading firms recognize that a single analysis technology seldom meets all their requirements. By integrating multiple analysis technologies in a single modeling and visualization environment with Femap, they can make better design decisions faster.

Analysis set manager The analysis set manager in Femap allows you to store solver setup data with your models, so you don't need to complete numerous dialog boxes each time you edit your model and create a new analysis input file. The sets can also be saved in a library for use with other models.
Multiple solver support Femap provides in-depth, high-quality support for industry standard solvers, including the popular and proven NX Nastran, MSC/MD Nastran, Abaqus, Ansys, MSC.Marc, LS-DYNA, SINDA and TMG. Femap provides the ability to re-use and integrate analysis models from legacy data as well as from customers and suppliers.
The complete Femap element library, with comprehensive support of physical and material definitions, takes full advantage of the advanced capabilities of these solvers, including dynamic, geometric and material nonlinear, heat transfer and fluid flow applications.
Leading third-party solution providers use Femap to perform CFD, soil modeling, advanced thermal analysis and electromagnetic simulations.
Integrated multi-physics solvers for Femap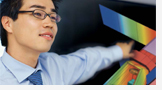 Femap Thermal Femap Thermal includes both the transient and steady-state thermal analysis capabilities required to solve a majority of common engineering problems. Capabilities include the modeling of conduction, convection, radiation and phase change. Femap Thermal provides a range of thermal boundary conditions and solver controls as well as a powerful thermal modeling tool for assemblies. This thermal coupling capability allows users to create paths for heat to flow between parts in large, complex assemblies.
Femap Advanced Thermal adds many advanced thermal and fluid flow modeling capabilities to the Femap Thermal package. For example, fluid duct flow modeling includes coupled convection and fluid flow analysis. An extensive set of tools for advanced radiation and spacecraft modeling includes solar and orbital heating, orbit modeling and display, specular reflections with ray tracing and articulating structures.
Femap Advanced Thermal also provides advanced solver features such as custom user subroutines, model simplification, substructuring and interfaces to industry thermal codes.
Femap Flow provides a comprehensive 3D computational fluid dynamics (CFD) solution fully integrated within Femap. When combined with Femap Advanced Thermal, it solves a wide range of multi-physics problems that involve fluid flow and heat transfer. Both lowspeed and high-speed compressible flows can be modeled. The Femap Flow solver uses an efficient and robust elementbased finite volume, multi-grid solver to compute 3D fluid velocity, temperature and pressure for both steady-state and transient applications.
Forced flow, natural convection and mixed flows can be modeled with multiple inlets, outlets and internal flow boundary conditions. For electronics cooling applications, the package easily models fan curves, inlet and outlet resistances as well as convection from thin structures. Rotating systems, moving walls, flow turbulence models, humidity and other features are available for the most advanced fluid flow modeling requirements.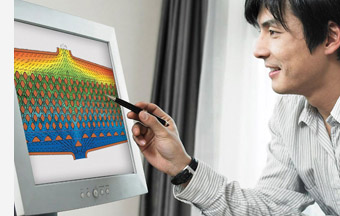 @Copyright 2012 Preside Group All Right Reserved.
Design and Developed by :
Web Mart Solution